(Image source: NDAB Creativity /shutterstock.com)
About Siemens
We create technologies that take society further. How? Through electrification, digitalization and automation. We're changing the cities you live in, the places you work, the energy that powers your home, and the way the products you love are manufactured. We're making a difference to the world we live in every day. We've reduced congestion in cities by 20% by using intelligent real-time traffic data; we've built offices using nothing but a 3D printer; we've created software that communicates with turbines in the middle of the ocean; and we helped NASA develop the Curiosity rover and land it safely on Mars.
By working with like-minded universities and companies around the globe, we can create innovations that contribute to society's success. It's what inspires about 370,000 people at Siemens to come and work together each day.
What's in for you as FAU student?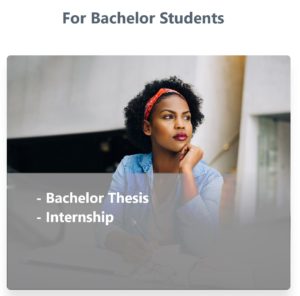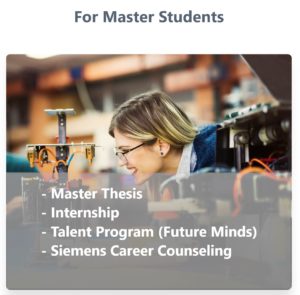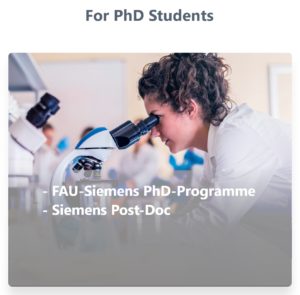 ---

---
Practical Experiences
Gain your first experience at Siemens:
On the Global Siemens Jobmarket Platform  you find all current vacancies. Here you find internships, working student positions as well as thesis opportunities.
Image Source: Geschäft Foto erstellt von DCStudio – de.freepik.com

Student Resources

Siemens helps today's engineering students prepare for tomorrow. We provide student engineering software to empower the next generation of digital talents. Siemens provides a robust selection of software for students – they are completely free as well as the student webinars.
Student News
Autonomous Systems | New Lecture at FAU

We are excited to announce that the FAU is offering a innovative new lecture about autonomous systems! The lecture series will cover a broad variety of topics inspired shaped by academic and industry experts alike! Each lecture will also cover an impulse talk by prestigious and experienced professionals such as Rolf Hellinger, Vice President for Center of Competence Power Electronics at Motion Control (MC) Business Unit at Siemens, or Andreas Gröger, Acting Head of Siemens Technology in Portugal.

What's in it for you?

The lecture will enable you to describe and discuss autonomous systems and their components.
In the end, you can design hardware and software and their interactions in a targeted manner.
You will be able to scale solutions by networking.
You will receive thought-provoking inspiration from leading industry professionals.
You can develop practical implementation options for industrial applications from theoretical considerations.
The lecture provides the unique opportunity to discuss innovative topics with like-minded students.

The lecture is headed by Prof. Dr.-Ing. Philipp Beckerle and Anany Dwivedi (coordinator) and takes place Wednesday from 2pm to 4pm.
Tech for Sustainability Challenge: Interview with Jonas Lang, Winner "Metro Electricity Bill Challenge"

Jonas Lang is one of the winners of the Tech for Sustainability Challenge (see article above). Constanze Welter, who manages the Siemens RIE Erlangen-Nuremberg, asks him about his contribution to the challenge and being a "high school student" at FAU Erlangen.

You have a somewhat unusual curriculum vitae. How come you are currently doing your A-levels and at the same time are a student at Friedrich-Alexander-University Erlangen-Nürnberg?

Due to two changes of school, I was two years behind all my peers. A friend who had already graduated told me about his studies at that time and through a graduation party I was so captivated by university life that I applied for an early study. The incentive to study while in school was to make up for the "lost" years.

So, I became a 16-year-old high school student who attended mathematics lectures at the university half of the week. In the second semester, I changed to economics with a focus on finance and controlling. Since then, I study in the 7th semester half of the week at FAU Erlangen-Nürnberg, and the other half I attend regular Q12 classes at my school.

Why did you participate in Siemens' Tech for Sustainability Challenge?

During my summer job at the Siemens Electronics Plant Erlangen, a LinkedIn post with the challenge was suggested to me. I was excited to solve big corporate issues with the help of my idea. Unfortunately, I was unable to participate in the challenge until mid-September, as I had previously been accepted for another student position at Siemens but was later turned down due to my missing matriculation number. This unfortunate coincidence spurred me on even more to win the challenge and gain a foothold at Siemens and the "corporate world".

Can you explain your solution for the "Metro Electricity Bill Challenge"?

The Siemens product (EOO) existed already and the task was to find a suitable pricing strategy including a "proof of concept". By comparing the different recuperation levels of the optimized (with EOO) and unoptimized (without EOO) trains, the effective savings through EOO can be proved to the customer. By allocating the savings to the individual customer and a suitable CO2 certificate, a transparent pricing model can be developed based on the number of users and the distance traveled, which is constantly changing and adapting to the market.

What did you find the most difficult part of the challenge?

Since I don't have a technical background, I found the "proof of concept" particularly difficult, since I was supposed to make the pricing model transparent by evaluating train data. In the end, I was able to find a suitable and feasible solution with the support of challenge owner Jacob Kohlruss from Siemens Mobility.

Do you take anything away from the challenge for yourself?

Absolutely. The pitch training and mentoring in particular helped me to develop personally a lot! Before the challenge, it was difficult for me to present something in front of many people. Through the numerous meetings during the challenge, my presentations became more structured and my appearance in front of an audience more confident.

What's next for you?

I'm currently in a 3-month internship at ZOLLHOF, where I can prove and expand the innovation and prototyping skills I've gained.

Afterwards, I would like to work as an intern at Siemens between my high school graduation and my studies, preferably in the field of consulting or venture capital, before doing my bachelor's degree at a business school like WHU or HSG.

Contacts:
About the Tech for Sustainability Challenge

https://ecosystem.siemens.com/techforsustainability/tech-for-sustainability-campaign